Attending A Webinar
Reminders for registered webinars are sent one week, one day and one hour before the webinar start time.
Everything needed for the webinar is available through your Dashboard. Be sure to Sign In!
Test Your Browser!
Making sure your browser is ready is the first step in successfully attending a webinar through the Learning Center. WesPay webinars utilize Adobe Flash Player. You may need to enable Flash Player, download an extension or upgrade your Flash Player. This is not something you want to do 10 minutes before the webinar is scheduled to start. We recommend doing this at least 1-2 hours prior to the class, if not earlier.
Attending the Webinar
Your Dashboard is where you will go to attend a webinar, watch a webcast, or view archived recordings of previously attended classes.
Access your Dashboard two ways:
Through the reminder email (sent from WesPay Learning Center (wespaylearningcenter@wespay.org) one week, one day and one hour before the scheduled webinar start). There is a link at the bottom of the email to go to your Dashboard where you can also download a calendar item.
If you haven't seen the reminder emails, check your spam/junk folder(s), add the email address to your address book, and ask your IT department to whitelist the email and domain.


Go directly to the Dashboard via the Learning Center.

Go to www.wespay.org
Mouse over "Training and Events" and select "Learning Center"
Sign in with your WesPay credentials (use the forgot password link if needed, or contact memberservices@wespay.org of (415) 433-1230 for assistance)

You can also sign in on WesPay's home page. Your credentials will transfer to the Learning Center. If you see "Sign In" at the top of the page, click it to complete the credential transfer.
Your Dashboard will show all upcoming events under the heading "Upcoming Live Events". Your registered webcasts, previous webinars, and workshops will be listed in the On-Demand Products section. You'll see something like this. If you don't see the title, double-check the filters and be sure that "Filter by Status" is set to "Any". Select the title of the event you are attending.

You'll now see something like the image below that includes:
Link to "Test Your Browser"
Link to "Add to Calendar"
Handouts tab where presentation materials are made available
Link to evaluations (be sure to come back and provide feedback for the trainers!)
Early login begins 15 minutes before the scheduled start time. When early login is available, the larger box on the right will contain a link to the webinar.
Streaming is strongly encouraged, however we know not everyone is able to do so. A phone number will be presented when you click the webinar link, and the presenter usually posts the call-in number and passcode in the webinar chat feature.
That's it - your'e ready to go!
After selecting the webinar you can access handouts and test your browser. Registrants may log into the webinar 15 minutes before the scheduled start time. The link will provide the call-in phone number, or you can listen through computer speakers.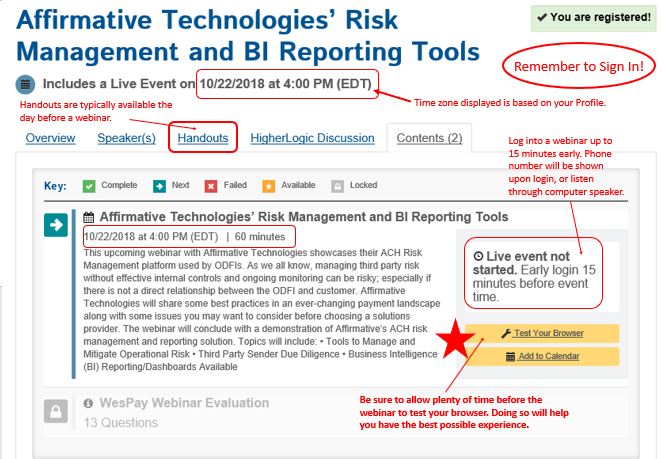 Evaluation
Webinar participants will be reminded to complete the evaluation, which can be found directly within the event in your Dashboard. Please be sure to complete this last step.
Automatic Archive Recording
When a webinar is finished, an archived recording will be available for you within the event in the Dashboard. An notification email will be sent when the recording is ready with a link back to your Dashboard.
Now you don't need to worry if your have to miss a webinar!
Questions?
Contact Member Services
(415) 433-1230
memberservices@wespay.org
Remember To
Especially before your very first event, use this link within the event details to be sure your browser is ready. This will help to ensure the best possible webinar or webcast experience.